Oct 19, 2021 - Why Thomson?
Why Thomson?
The Electrak HD is a new electric linear actuator platform with onboard electronics which can eliminate the need for standalone controls. Higher power (up to 16 kN) opens up a new, wider range of hydraulic applications to electric conversion. And, it meets the most extreme OEM component environmental acceptance tests, including IP69K.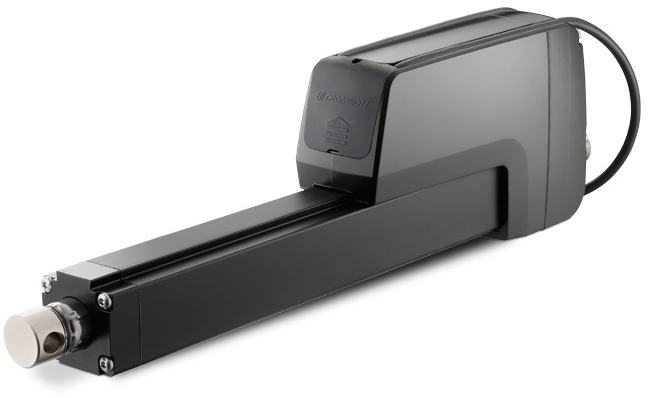 Industry-Leading, Onboard Electronics
The new Electrak Modular Control System (EMCS) is the foundation for the best onboard controls currently available in electric linear actuators and includes, optional, built-in J1939 CAN bus support.
The feature-rich modular design for all control and feedback options is simple to use and built within one compact housing. It improves controllability, saves space and reduces installation time and total cost.
Built-in J1939 CAN bus option enhances controllability, can eliminate individual controls and simplifies OEM machine design.
Electronic trip point calibration ensures consistent overload protection.
Constant monitoring of critical parameters such as end-of-stroke, voltage, current and temperature is standard on all HD actuators.
Built-in dynamic braking reduces coast at the end of stroke, improving repeatability.
Optional low-level switching and automatic sleep mode reduces footprint, lowers costs and boosts circuit isolation.
Optional end-of-stroke indication output for customer use, such as interlocks.
Superior Performance
Higher power and longer stroke lengths enable Electrak HD to tackle applications outside the range of other electric linear actuators.
Higher load ranges up to 16 kN (3600 lbs) are ideal for hydraulic to electric conversion applications.
Stroke lengths up to 1 m (39 in) / 500 mm (20 in) for 16 kN.
Efficient actuator design, including a high quality ball screw, reduces current draw by up to 20%.
Unrivaled Environmental Protection
Electrak HD is tested to meet and exceed the toughest OEM mechanical and electronic component acceptance tests in the market today.
IP69K (static), IP67 (static) and IP66 (dynamic) ratings prove Electrak HD can withstand the harshest environments.
Capable of operating in a wide temperature range from - 40 °C to + 85 °C (- 40 °F to + 185 °F).
Salt spray tested for 500 hours.
CE, RoHS and REACH (EU) compliant.
Additional Standard Features
Integral manual override.
Standard anti-rotation actuation.
Integral thermal overload protection.
Load lock in case of ball nut overload failure.
Flexible front and rear clevis options.